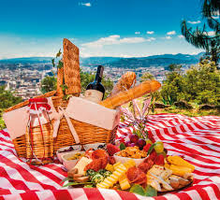 A picnic is an excursion at which a meal is eaten outdoors (al fresco), ideally taking place in a scenic landscape such as a park, beside a lake, or with an interesting view and possibly at a public event such as before an open-air theatre performance, and usually in summer. Picnics are usually meant for the late mornings or midday breakfasts, but of course could also be held as a luncheonette or a dinner event. Descriptions of picnics show that the idea of a meal that was jointly contributed and was enjoyed out-of-doors was essential to a picnic from the early 19th century.
Community content is available under
CC-BY-SA
unless otherwise noted.